3D Printing Shop
Everything for your
3D belt printer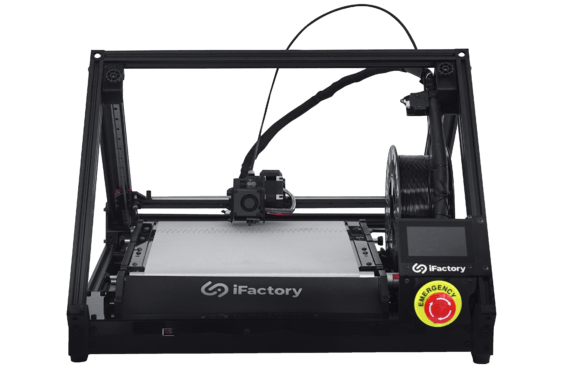 Showing all 7 results
Buy our new 3D belt printer One Pro – exclusively in our iFactory3D shop.
Our accessories offer awaits you with the original spare parts, supplies or one of our "all-around carefree" care packages.
Each Care Package in our iFactory3D shop contains the most important wear and spare parts in the original quality and design.
Each of the care packages for our iFactory3D printers has been designed to ensure your production without unnecessary interruption. 
Simply select the consumable, spare part and/or care package that suits your needs.
ATTENTION
The Care Packages with the spare parts of our 3D printer predecessor models can no longer be found in the current shop offering!
Of course, the spare parts of the previous models are still fully available for you. 
Please contact us or directly send an email to sales@ifactory3d.com and order the original spare parts and care packages for your 3D printer model from iFactory3D. 
Care packages with original spare parts
With our wear and tear, consumable, spare part and care package variants, you simply replace the high-quality original spare parts on your iFactory3D printer as needed, without large stock-keeping or long production stops with the need to readjust all parameters afterwards.
Reordering a spare part at short notice can sometimes be difficult.
Since we know that spare parts are often copied from inferior brands and also the original spare parts are sometimes not available in the meantime, we have put together care packages for you in our store.
Our care packages are a simple solution to help you stock up on consumables, wear parts or spare parts for your iFactory3D printer.
With the care package suitable for your 3D printer model, you always have at least one set of all common spare or wear parts in stock.
Original spare parts
With our original parts developed exclusively for our 3D printers, you always get the best quality. Also, the reordered spare parts are of course manufactured according to the original specifications and from the original materials of our iFactory3D printer development.
Most of the nozzles offered on the 3D printing market appear to be of high quality and fit precisely, but even slightly deviating dimensions impair the print quality or even destroy the belt. This happens unnoticed because the nozzles from third-party manufacturer shops are usually seemingly identical, but actually not pointed enough. Our original nozzle "Custom Nozzle Volcano" delivers permanently and consistently good results. 
You get the original nozzles exclusively here; always in consistent high quality and perfect fit for your iFactory3D printer.
The innovations of our development department enable us to prepare the 3D conveyor belt printers ideally for your production projects, so that you receive reliable quality.
3D Belt
For our 3D belt printers, we have searched particularly hard for the ideal belt and invested a lot of time in its development.
The iFactory3D Belt is a custom-made product specifically tailored to our needs. Therefore, the belt in our spare part offers is always identical to the one supplied to you when you purchased your iFactory3D printer. We source the conveyor belts for our iFactory3D Belt Printers exclusively from one of the leading manufacturers of industrial conveyor belts.
3D printing nozzles
In addition to the original iFactory3D assembly line, our spare part offers include a selection of our high quality "Custom Nozzle Volcano" nozzles from our own development.
Our "Custom Nozzle Volcano" nozzle is an innovation developed by us and optimized for assembly line use with 45° inclination, produced especially for us by the well-known manufacturer Zodiac.
Also in our spare part care packages, you can shop the hardened and unhardened iFactory3D nozzles, for a durable production in consistent quality.