Also this year iFactory3D was represented with the Berlin filament partner 3dk.Berlin on a joint booth at Formnext 2022. For iFactory3D it was the second year at the show, and this year carrying the production-ready One Pro, one of the few available 3D belt printers at the show.
One Pro wows at Formnext 2022
At the show, just like last year, iFactory3D met many exciting new customers who are excited about 3D belt printing and see it as the right solution for their production projects. However, a number of companies also found their way to the booth. Among these were not only potential buyers for the One Pro, which is now available to the wider market. Many of them came to the booth with more specific requests for 3D belt printing, which should result in some innovative research and development projects in the future. These included major German car manufacturers, and also one of the largest transport companies in Europe showed a lot of interest in 3D belt technology.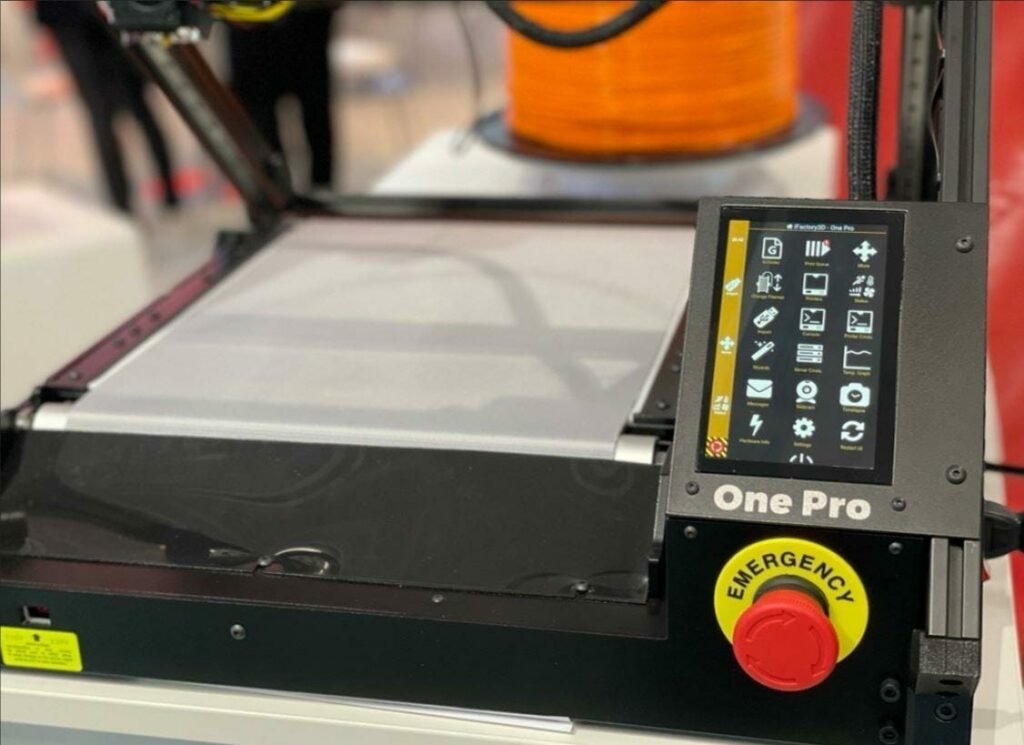 Trade fair guarantees contact cultivation
In addition to these promising new contacts, Formnext 2022 was also valuable for consolidating existing contacts. iFactory3D GmbH was pleased to welcome numerous visitors who came to the trade fair to learn about the company's latest developments. Among them were private investors who had become aware of the startup via the Companisto platform. They had collectively decided to commit capital to the tech company's visions and thus rely on the automation of additive manufacturing. They were able to take a look at the latest and final version of the printer on-site, as well as some impressive printed objects that were created on the One Pro for the trade fair. For example, a rocket weighing almost 5 kilos towered over every visitor, no matter how tall they were, by several centimeters.
Belt enthusiasts convinced by One Pro and its possibilities
Some of the company's earliest supporters also stopped by the iFactory3D booth, namely those who had opted for the German startup's first 3D belt printer model about 2 years ago. They talked about the projects they had tackled with their printers. As satisfied as these pioneers of belt technology are, they were nevertheless very enthusiastic about the even greater possibilities that the One Pro has to offer in comparison. Particularly in professional small-batch production to industry standards, nothing can hold a candle to the all-rounder in terms of reliability and continuity. This consistently positive feedback on the sophisticated technology once again reinforces iFactory3D's belief that 3D belt printing is the future and will be significantly driven forward by them.
International strategy at an international trade fair
The close relationship with their supporters is important to the Düsseldorfers, as it stands for quality and trust. But above all, both sides can benefit from a close exchange. This was also the case at the trade fair, where some interested parties were introduced to the young company's latest development projects and were able to contribute their ideas and suggestions.
In general, iFactory3D was able to draw a lot of inspiration from the Formnext visit, especially for application examples and industries in which the use of 3D belt printers would bring added value. The 3D printer manufacturers see great potential in the international arena in particular, with the marketing of iFactory3D products set to extend far beyond the European or Western market in 2023. They will place particular focus on industrial applications for this international campaign. For different requirement profiles, a concept has already been developed for more than half a year, revolving around modular solutions for each application area.
Formnext 2022 offers large pool of innovation
Strolling around the trade show on one's own was also one of the highlights. Last year, for example, this was also a guarantee to get an in-depth impression of all the innovations in the business. This year, the expedition helped to identify potential partners and discuss strategies on how both technologies could benefit from each other. Both for print quality assurance and especially for increased speed, some collaborations emerged that are likely to be important for upcoming iFactory3D printer developments.
Maximized productivity thanks to novel extruder?
One case, in particular, involves a manufacturer of extruders that can process many times the usual amount of filament in a fraction of the time. More precisely, the throughput is around 1 kilogram of filament per hour. According to the manufacturer, surface qualities can be achieved with this system that are said to be in no way inferior to objects produced by injection molding. Representatives of this company also reported that belt printing was tailor-made to get the best out of this new type of extruder. This would have been easy to determine after quite a few of their previous customers became inventive themselves, and unceremoniously converted their 3D printing models into belt printers. Only in this way could the extremely high material flow be used and processed in a meaningful way at all.
Goodies for Formnext soon to be made of chocolate and brought to you on the conveyor belt?
In addition to this extruder/hotend combination, attention was also drawn to a new type of hotend that heats up fully within a few seconds. According to the manufacturer, this can save up to 50% of previous printing time and is suitable for processing even rather unusual materials for 3D printing. Among them, for example, acrylic glass, clay, or even chocolate. For the latter, iFactory3D would be virtually predestined, as the specially developed belt is inherently food-safe. So nothing really stands in the way of tasty news from 3D belt technology.
These potential collaborations thus promise increased productivity while maintaining quality and precision. iFactory3D is convinced that these collaborations will mark another milestone in automated additive manufacturing.