Extrusion profiles are often the basic building blocks of many constructions – they serve as versatile and often indispensable construction elements in numerous branches of industry. From architecture to furniture construction, in mechanical engineering, in the automotive industry and in the manufacture of electronic devices – the possible applications are almost unlimited. The functions of extruded profiles are as varied as their areas of application. Depending on the material and object, they can be used as part of the frame construction, as guide rails, as blinds or protective covers and much more. Their versatility allows them to be used as a structural base for various constructions, but also as a support for wiring, lighting systems or even as part of furniture.
Ubiquitous in architecture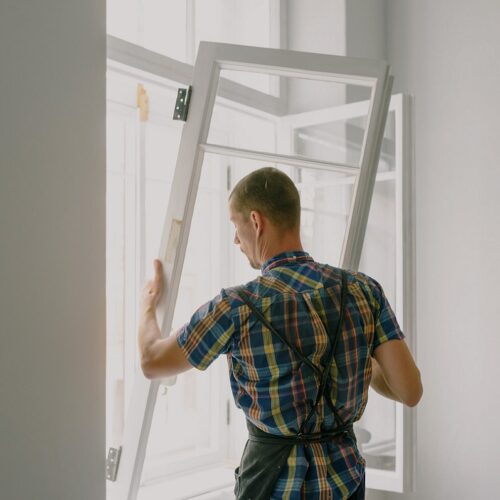 In architecture, extrusion profiles are often used for the design of window frames, doors or façades. Their strength, resistance to weathering (thanks to the appropriate choice of material) and versatility in shaping make them an ideal choice in this field. In mechanical engineering, they are used for the construction of frames, beams, housings and other structural elements, as they offer stability and are lightweight at the same time. Anchors can be placed in the cavities, making it easy to create modular structures from individual profiles.
Popular for function and design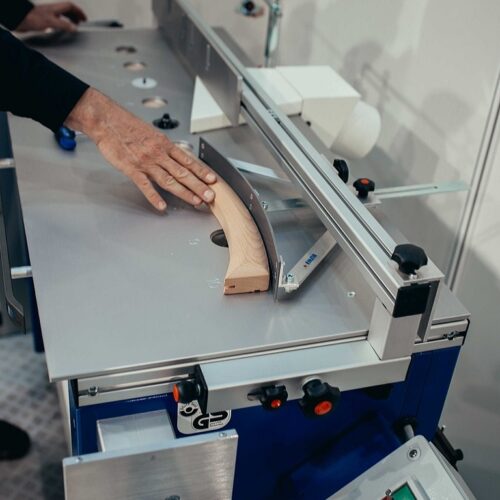 Extrusion profiles are widely used in the automotive industry, whether for the construction of chassis parts, body parts or interior details. Their lightness and resistance to external influences are of great importance here. In the electronics industry, for example, they are often used as heat sinks for electronic components, as their structure enables efficient heat dissipation. Another area of application is furniture construction. Here, extrusion profiles such as aluminum profiles can serve as the basic framework for shelving systems, table legs or design elements, whereby their flexibility and adaptability in terms of shape offer a high degree of design freedom.
Fundamentally different and yet similar
These profiles are thus made from various materials such as different plastics, but also from metal such as aluminum or steel. They can be rigid or flexible. Their shapes vary greatly depending on the desired application. However, they almost all have something in common: they are narrow, hollow in some areas and elongated.
Large order volumes crucial for extrusion orders
The production of customized extrusion profiles requires special tools, which can be expensive and have to be made individually for each profile. Extrusion orders are therefore often only worthwhile for larger quantities. In other words, only when a new product is ready for series production and has gone through various iterations. Things get tricky when the intended profiles are inserted and do not fit. Appropriate prototypes of the extrusion parts are therefore a great advantage. Before producing the expensive tools and placing a large order with an extrusion company, it is worth testing the profiles extensively.
Use of 3D printing for prototype production of extrusion profiles
Thanks to their ability to create detailed designs, 3D printers are suitable for creating the specific shapes as they will later be extruded. They often depict a cross-section that represents a few centimeters of the profile. This customizability is one of the reasons why 3D printing technologies, especially 3D conveyor belt printing, are so important for prototyping. 3D belt printing is particularly notable for this application because it can also produce target lengths. This enables the production of customized extrusion profiles without the cost and time required to produce specific tooling.
Continuous printer with advantage for extrusion profiles
The use of this advanced printing technology, as developed by iFactory3D, enables the production of extrusion parts in a continuous, seamless form. While conventional 3D printers can usually only supply smaller cross-sections for testing new product developments, conveyor belt printers allow the production of continuous profiles in any desired length. The advantages of this method are obvious: fewer seams mean fewer work steps, increased stability and a more precise simulation of the end product.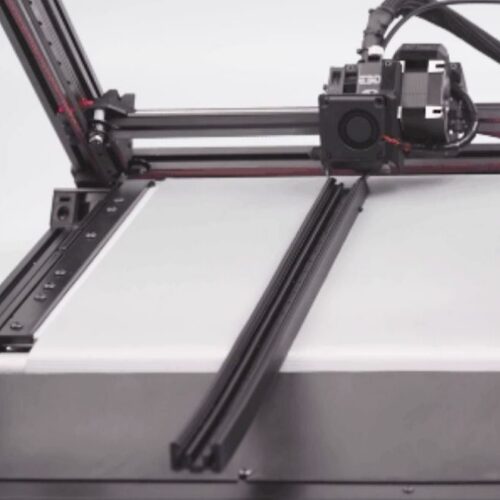 Variety of materials for high-quality images
The 3D conveyor belt printer from iFactory3D is ideally suited for the production of various extrusion profiles, as it can process a wide range of materials and therefore comes very close to the quality of the planned, extrusion-produced profiles. A successful simulation is the best way to avoid problems in further development and later in production.
Further plus points for extrusion profiles from the 3D printer with conveyor belt
In addition to the advantage of the unlimited print bed length for continuous parts, the 3D belt printer from iFactory3D offers more. The printing angle of 45° is a special feature: if the extrusion profiles are printed with a flat side lying on the belt, inner boundaries and guides can be realized without additional support material. With the more acute printing angle, the layers can be built upon each other, even if there is a free space underneath. In contrast, Cartesian printers with a 90° angle are more prone to printing errors, as they print the extrusion parts on edge. This means that there is only a narrow contact surface, leading to problems, especially in later printing phases. The leverage effect increases and then the moving print head can quickly shift the print object. This leads to layer shifts, air printing, print interruptions or even damage to the device itself.
Small batches instead of large extrusion profile orders
With the continious belt of the One Pro from iFactory3D, for example, you are by no means limited to pure prototyping. In addition to the production of infinite objects, the printer is also suitable for additive series production. Once the print job has been started, the 3D conveyor belt printer works without any further intervention. Thanks to the print queue function, several extrusion profiles, even different types, can be produced continuously on the belt over a longer period of time. This option is particularly attractive for small businesses with low production runs or specialized companies that rely on customer-specific solutions. 3D belt printing can be an economically advantageous alternative to production using classic extrusion processes for these small series.
Extrusion profiles and 3D belt printing – it's a match
In summary, the combination of extrusion profiles and advanced 3D conveyor belt printing technology not only opens up new avenues in product development, but also enables the realization of unique designs and tailor-made solutions. Whether for large industrial facilities or small, individual products.