It's that time again and the Digital Demo Day calls the start-up scene together to gather in Düsseldorf's Areal Böhler and celebrate the business opportunities and emerging ideas of the digital start-up scene. Of course, iFactory3D immediately follows the call.
DDD23: Celebs & Creatives assembled
Digital Demo Day 2023, which is expected to attract more than 4,500 people, serves as a hub for learning, knowledge & idea sharing, and business networking around startups and digital. The event features five different stages where well-known stars, founders and experts offer valuable insights into the startup world. In addition to the Main Stage and the Startup Stage, participants can get involved on two Workshop Stages and the Vision Stage.
Among the well-known speakers are the former world number one in tennis and now successful founder, Ana Ivanović, as well as model and entrepreneur Sara Nuru, and mathematician and best-selling author Gunter Dueck.
Masses of exhibitors & exchanges
At the expo, digital innovations from more than 250 national and international tech startups will be showcased up close. Meanwhile, the Investors & Corporate Lounge offers the opportunity to make new contacts in face-to-face meetings.
This event is a catalyst for change in the startup landscape. Germany's largest B2B startup trade show and conference provides a platform for innovators to meet. Digital Demo Day (DDD) is the leading B2B startup trade show and conference in Germany. With several hundred startups showcasing their products and cutting-edge technologies, as well as a diverse conference program, interactive workshops and matchmaking opportunities, the event fosters innovation and growth for new businesses. Entrepreneurs, investors and executives alike benefit from DDD and are eager to return.
Frequent visitor at Digital Demo Day
Thus, iFactory3D is once again drawn to the Areal Böhler to participate as an exhibitor. The young company, or rather its founders Artur Steffen and Martin Huber, will be represented at the Digital Demo Days for the fourth time this year. Last but not least, they count the 2019 event and the impressions gained there as a decisive shaping point for iFactory3D.
This time around, iFactory3D plans to use the DDD23 stage to introduce an all-new design series of conveyor belt 3D printers. They couldn't think of a more fitting setting to debut their compact, optimized B2B belt printers. This series will include several design focuses, such as a slim version, a high-speed variant for intensive production, and a belt printer with a focus on aesthetics. Each of these iterations is dedicated to reliability, sustainability and additive series production.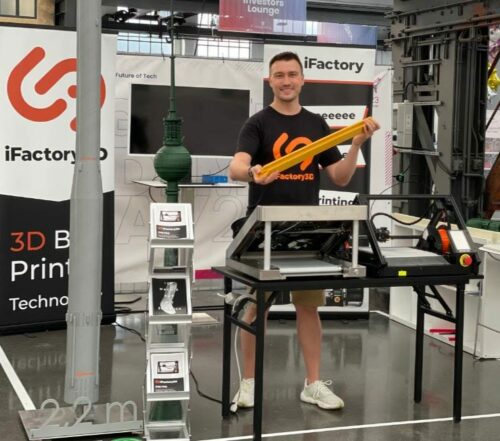 Hardware highlight at digital trade show
So too is the One Pro, current cornerstone of iFactory3D. After its debut at DDD22, the One Pro will once again grace the event along with its newly introduced colleagues. This is a joint demonstration of the development and expertise of the iFactory3D product range. As one of the few hardware producers in the technology sector of the German start-up scene, iFactory3D's devices particularly enjoy the spotlight. Every year, the booth around the 3D belt technology attracted many interested and curious visitors who were captivated by the sheer fascination of 3D printing. On display, in addition to product innovations and printers in action, were the most outstanding workpieces from the One Pro. Using the endless print bed, it conjured up the Berlin TV Tower on a scale of 1:200, and a rocket more than 2.20 m high.